Reviews by Penny Woodward
I love the fact that beautiful garden books are still being written, photographed and published. As a garden book writer I know how much of your life is poured into producing a book. In the last twelve months three wonderful 'labour's of love' have been written about Victorian gardens. They are all works of art and surprisingly different in their style and approach.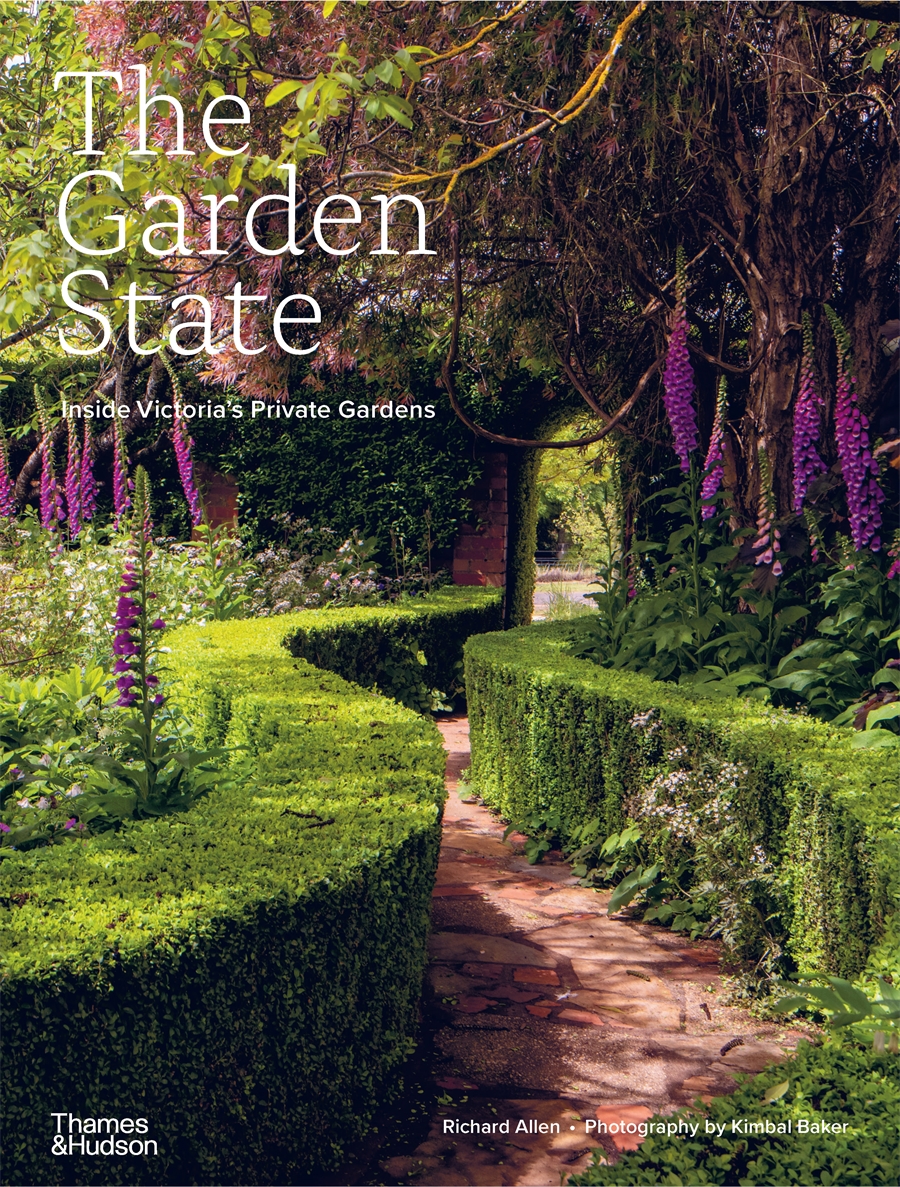 Perhaps the most traditional is the glorious The Garden State, Inside Victoria's private gardens by Richard Allen. With vivid pictures by Kimbal Baker taken over four seasons, Allen describes 24 of Victoria's best gardens divided into chapters that include Grand Rural Estates, Coastal Retreats, Old Curiosities, Hill Stations and Climate Conscious.
Much of Victoria is blessed by temperate climates, cool winters, hot summers and reasonable rainfall (although this is all now much more unpredictable with climate change). With commitment, passion, imagination, patience and time, beautiful gardens can be created almost anywhere. But many of these, especially those in the Grand Rural Estates and Hill Stations chapters, benefit from fabulous volcanic soils and more benign climate, some even have reliable water. However coastal gardens and those established with a nod to changing climate show dramatically what can be achieved in more marginal soils and climates as well. Some of my favourites are the more majestic and traditional Mawallok with its William Guilfoyle designed garden and plenteous water, Bolobek in Mount Macedon that covers 10 hectares with fabulous old trees and the Native Garden in Dunkeld at the foot of Mount Sturgeon. Then there are the newer gardens that have been established over the last 20 years including in Mildura a garden with 370 rose species, in Bellbrae a 2 hectare garden full of native and indigenous plants and finally for me the water efficient garden filled with drought tolerant plants at Illangi Farm in the Barrabool Hills.
In each of the 24 gardens Richard Allen charts the garden's history, both the people and plants, detailing their most notable design features as well as explaining how they have passed from one generation to the next, or to new people with a passion for gardening. He also looks at how each works within the landscape and what measures have been taken to adjust to or cope with changing environmental conditions.
This is a beautiful book, full of inspiration and ideas, well worth borrowing or buying to learn more about the garden treasures of our garden state.
The Maranoa Botanic Gardens Florilegium is a compendium of vivid and beautiful illustrations of plants grown in the Maranoa Botanic Gardens. These are accompanied by a biography of each plant from Margaret Castle (Margaret is also one of the illustrators). Cynthia Watson, the mayor of Boroondara, says of this florilegium that it, "documents many of the fascinating plants that grow in the Maranoa Botanic Gardens through these intricate and exquisite botanical paintings."
These gardens were first established when John Watson bought 3.5 acres in Balwyn in 1901. Watson was a mercantile broker by trade, but also a botanist, naturalist and horticulturalist. He didn't build a house but immediately started to establish a private garden of native Australian plants on his land. This was purchased from Watson in 1921 by what is now the City of Boroondara. They continued to plant native Australian plants and remove weeds and non-native species. I remember walking in these gardens as a young woman and marvelling at the diversity and number of plants. Today the gardens cover 7.5 acres and contain an estimated 5,000 plants. Some 100 of these are illustrated in the florilegium.
I was initially surprised to find that the plants are not in alphabetical order of the genera or family, or even of the common name. But as Professor Tim Entwisle explains, 'It's a delightfully eclectic mix of plants, in a delightfully eclectic order. Not a matter of chance but – like everything else Margaret has done – a carefully considered construct. The result is very much the product of an artists eye. Why sort alphabetically by species or plant family when these are portraits, not mugshots?" Designed and printed in Melbourne, the work is the product of 16 botanical artists and is published by the local council. To go back to Prof Entwisle again, 'This book is more than a celebration of Australian Plants and the Maranoa Botanic Gardens, it is a celebration of a community drawn together through a love of nature and art. All power to them and this book.' I wholeheartedly agree.
Our final book is Rogue. Art of a garden by renowned garden designer Rick Eckersley with sublime photographs by Will Slater. This book is the epitome of a 'work of art' in fact many works of art. Eckersley discusses his philosophy and the art of gardening. But the book focuses on his garden Musk, his own personal garden, and features the work of numerous artists who were inspired by the landscapes he shaped. Eckersley explains that these artists, in turn, inspired him to produce this book. He says, 'Reflecting on my life in garden design, it's clear to me now that my greatest pleasure never was in the making of gardens, but rather in people's response to them. I'm fascinated by how people become caught up in the experience of being in the garden, how they're moved in some way, even if it's hard to interpret or articulate.'
Andrew Laidlaw, landscape architect at RBG Melbourne, writes in the foreword, 'The book gives us and insight into the design mastery of Rick Eckersley and the deep connection to place of his own rural garden, Musk'. He adds that 'there is a deep calm at Musk that is all pervasive.' And 'whatever it is, it changes you.' I think the same can be said about the book. This is not a book you quickly flick though, every page takes time, immerses you in one part of the garden. There are some words but it's really the images and art works interspersed through the pages that make you stop and think about gardens, about life, about environments and our natural world.
Unfortunately Musk has recently been sold and it is not known if the new owners will maintain and continue the garden and Rick's design. This means that this astounding book may be the only way you will now be able to see Musk. As Eckersley says in his introduction, 'While you, the reader, might not have had the opportunity to visit Musk, my hope is that this book works to take you there, that you're able to lose yourself in the garden's shifting textures, colours and moods, as captured by the photographs and artworks within these pages.' I was lucky to see Musk a few years ago. It is breathtaking and breath giving, as is this glorious book.
You can borrow all three books from the PMI.
The Garden State: https://library.pmi.net.au/fullRecord.jsp?recno=31675
Maranoa: https://library.pmi.net.au/fullRecord.jsp?recno=31832
Rogue: https://library.pmi.net.au/fullRecord.jsp?recno=31838